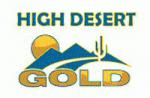 VANCOUVER, BRITISH COLUMBIA -- (Marketwire) -- 04/05/12 -- High Desert Gold Corporation (TSX VENTURE: HDG)(OTCQX: HDGCF) ("HDG" or the "Company") is pleased to announce the 2012 drill schedule at the Gold Springs Project. A drill will mobilize to the site on April 13 for an initial 1,830 metre (6,000 ft) reverse-circulation drill program. This will be followed by a 4,570 metre (15,000 ft) program later in the year. The Gold Springs Project is a 60/40 Joint Venture with Pilot Gold Inc. HDG holds a 60% interest and is the operator of the Joint Venture. The initial program will include drill holes located in the Jumbo resource area and the southern projection of the Jumbo Zone in Utah, as well as several targets within Nevada, including the priority Fluorite, Tin Can and Silica Hill targets.
The Company has received approval for two Notices of Intent ("NOI") submitted to the Nevada Bureau of Land Management ("BLM") which will allow for the initial testing of 3 priority targets in Nevada as part of the spring drill campaign. The Company plans to submit additional amended NOIs to the Nevada BLM in early April for additional drill hole locations on high priority targets including the Pope, Iris and Horseshoe Extension targets on the Nevada portion of the project area, with the expectation of receiving approvals for these additional 22 holes within three weeks of application. In addition, HDG has submitted a NOI to the State of Utah for work on state lands south of the Jumbo resource. Receipt of State approval for these holes is expected by the start of the drill program. A detailed map of the target areas can be found on the Company's website at http://www.highdesertgoldcorp.com/GS%20Geo%20with%20Target%20Areas%20Jan2011.pdf.
Ralph Fitch President stated "Low snow fall this year has allowed us to start drilling earlier than planned at Gold Springs. We have also now significantly enhanced our Project Team with a new Project Manager and two additional geologists, together with a number of part time geological consultants so that we can carry out an aggressive exploration program at Gold Springs this year with the intent of increasing the resource and to locate new areas of mineralization at Gold Springs. I have high expectations for the results of this program."
The drill programs this year are designed to increase our previously issued inferred resource of 173,000 oz. gold at 0.57 g/t and 3.88 Moz of silver at 12.9 g/t, equivalent to 233,000 ounces of AuEq(i) at 0.77 g/t. (see HDG PR11-18, December 22, 2011) as well as testing the high priority targets within Nevada. In conjunction with the Phase I drill program, the Company will be continuing geologic and geochemical activities on the large 5,900 hectares Gold Springs land package.
HDG will also be advancing the 100% controlled Pinyon project (see HDG PR12-06, March 9, 2012) toward drill readiness and may include this project as part of the second phase of drilling later in 2012.
ABOUT HIGH DESERT GOLD
The Company is a mineral exploration company that acquires and explores mineral properties, primarily gold, copper and silver, in North America. The major properties held by HDG are a 60% interest in the Gold Springs Project situated along the border between Utah and Nevada and the 100% controlled San Antonio Project in Sonora, Mexico and the Pinyon Project adjacent to the Gold Spring Project. The Company also has a 34.8% interest in the Canasta Dorada property in Sonora, Mexico, through its equity interest in Highvista Gold Inc. There has been insufficient exploration to define a property-wide mineral resource at either Gold Springs or at San Antonio and it is uncertain if further exploration will result in the targets at these two projects being delineated as a mineral resource.
Certain statements contained herein constitute "forward-looking statements". Forward-looking statements look into the future and provide an opinion as to the effect of certain events and trends on the business. Forward-looking statements may include words such as "believes", "target", "continue", "expectation", "progressing", "planned", "expected" and similar expressions. These statements include, but are not limited to, statements regarding the continued advancement of the Gold Springs property. These forward-looking statements are based on current expectations and entail various risks and uncertainties. Actual results may materially differ from expectations, if known and unknown risks or uncertainties affect our business, or if our estimates or assumptions prove inaccurate. Factors that could cause results or events to differ materially from current expectations expressed or implied by the forward-looking statements, include, but are not limited to, the effect of capital market conditions and other factors on capital availability; availability of sufficient financing to fund planned or further required work in a timely manner and on acceptable terms; changes in project parameters as plans continue to be refined and other risks more fully described in the Company's Management Discussion & Analysis of Financial Position and Results of Operations, which is available on SEDAR at www.sedar.com. Readers are cautioned not to place undue reliance on the forward-looking statements contained in this press release. Except as required by law, HDG assumes no obligation to update or revise any forward-looking statement, whether as a result of new information, future events or any other reason.
This news release uses the term 'inferred resources' which is recognized and required by Canadian regulations (under National Instrument 43-101 Standards of Disclosure for Mineral Projects), however, such term is not a defined term under SEC Industry Guide 7 and is not normally permitted to be used in reports and registration statements filed with the United States Securities and Exchange Commission. Investors are cautioned not to assume that any part or all of the 'inferred resources' will be upgraded or converted into 'indicated resources' or 'reserves' as defined under NI 43-101. In addition, 'inferred resources' have a great amount of uncertainty as to their existence, and economic and legal feasibility. Under Canadian rules, estimates of inferred resources may not form the basis of feasibility or pre-feasibility studies, or economic studies except for preliminary economic assessment as defined under NI 43-101. Investors are cautioned not to assume that part or all of an inferred resource exists, or is economically or legally mineable.
(i) Gold equivalent (AuEq) calculations reflect gross metal content using metal prices of $1020/oz gold (Au), and $15.80/oz silver (Ag), and have not been adjusted for metallurgical recoveries.
Neither the TSX Venture Exchange nor its Regulation Services Provider (as that term is defined in the policies of the TSX Venture Exchange) accepts responsibility for the adequacy or accuracy of this release.
Contacts:
High Desert Gold Corporation
Richard Doran
Executive Vice President
(303) 584-0608
(303) 758-2063 (FAX)